The Coastguard Café
Visitors to the Coastguard Cultural Centre can enjoy an array of teas and coffees, delicious cakes and snacks and savoury delights, from homemade soups to freshly prepared light lunches.
Gluten free options are also available.
We hope you enjoy your visit to the Coastguard Café and our Seafront Garden Café.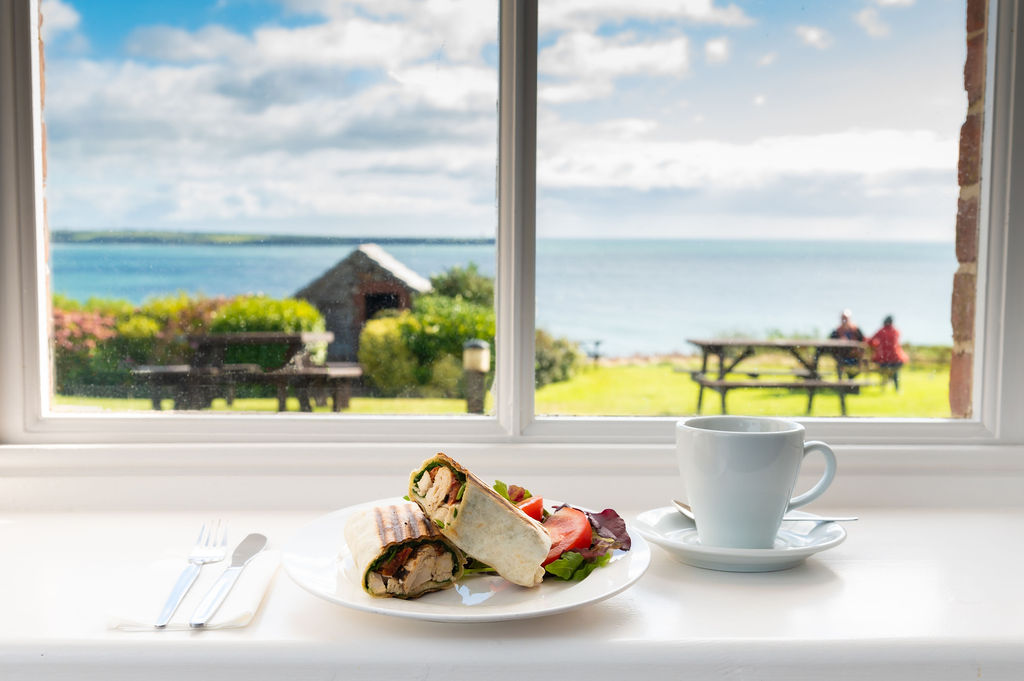 Café Opening Hours
Monday to Friday from 9 am to 4.30 pm and on weekends and Bank Holidays from 10 am to 4.30 pm.
Lunch is served between noon and 3.30pm.
Seafront Garden Café
Our seafront gardens overlooking the beauty of Tramore is a wonderful space to meet with family and friends and enjoy a coffee and treat from our delicious menu.
A new outside canopy has also been installed so you can enjoy the vista whatever the weather!
Orders can be placed at our takeaway window.
Take a seat and relax at the Coastguard Cafe and enjoy a delicious coffee, home-made sandwiches, soup or a treat from our delicious menu.
Our friendly team are here to look after your every need and visitors can enjoy a cosy seat inside at out 40 seater cafe or dine outside in our seafront gardens enjoying the beautiful views of the Irish Sea and Tramore Bay.
We focus on quality coffee, food and service delivered in a relaxed and homely environment.
Visitors to our Cafe can also enjoy the exhibitions in the Cafe Gallery, Upstairs Gallery and our beautiful Coastguard Creatives Craft Shop which is filled with beautiful arts, crafts and designs all created by local artists and creators.
We look forward to welcoming you soon at the Coastguard Cultural Centre Cafe!
The Coastguard Cafe operates under the Failte Ireland Covid Safety Charter.